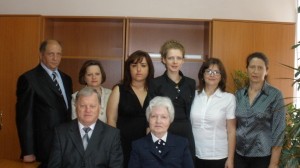 The Department of Pneumophthisiology was founded in 1962 by the university lecturer Vasile Socol, a disciple of the great scientist–physician Nicholae Starostenco. Nicolae Musteatsa, Ludmila Chiriac and Aurelia Ustian were the first university assistants (collaborators) of the Department of Pneumophthisiology. Afterwards the Department expanded its skilled didactic personnel that came from the institution of doctoral candidacies from Moscow and Kiev: Tudor Gonţa, Ion Covalenco, Vladimir Turcan, Alexander Zbanţ, Sergei Kurocichin and later Alexander Cardaniuc. During that year the foundation of the didactic staff was laid as well as the methodological development specialized curriculum for the IV year – General Medicine, for the V- Pediatrics, for the V – Preventive Medicine, internship. The textbooks "Phthisiology" were translated and adopted from Russian into Romanian. Mr. Lecturer Nicolae Musteatsa has been the Chief of Studies of the Department for 40 years.
Mr. Vladimir Turcan, associate professor, the disciple of the great scientist-phthisiologist Alexander Rabuhin has been the Head of the Department from 1985 till 2000. The "Phthisiology" university course for the Faculty of Preventive Medicine was edited by Ion Covalenco in 1993. Aurelia Ustian, associate professor, has been the Head of the Department from 2000 till 2009. Within the Department there were involved: Valentina Vilc, the Chief of Studies, Master in Public Health Management, Stela Kulciţkaia, associate professor. The collaborators of the Department developed and published the "Phthisiopneumology guide» which was translated into English. The teaching process in the Department is carried out in 4 languages: Romanian, Russian, English and French.
In September 2009 the course of Pneumophthisiology and the Department of Pneumophthisiology were merged. Mr. Iavorschi Constantine, Dr med, university professor was called the Head of the Pneumophthisiology Department. Mr. Zlepca Vasile, university professor, Dr med, is responsible for improving the level of knowledge of the doctors in the Department. Alina Malic, Evelina Lesnic, Adriana Nigulianu were also employed at the Department during this period. The course of Pneumophthisiology is taught to the fourth year students – the Faculty of Medicine, the fourth year students – the Faculty of Dentistry, the fifth year students – the Faculty of Medicine in the specialty of Public Health. The Department educates the resident-students at the Phthisiopulmonology specialty and other resident related cycles such as the Family Medicine, Internal Medicine, Pediatrics, Neonatology, Emergency Medicine, Laboratory, Morphopathology. The "Phthisiology" guide was reprinted in 2011.
The Municipal Hospital of Phthisiopneumology serves as the clinical base of the Department with 375 beds, 80 beds for children which satisfy the training necessities of students and residents.